The commitments of the Quinta do Pessegueiro
The philosophy of Roger Zannier's estate combines the wisdom of traditional Douro viticulture with modern scientific knowledge. The sharing of knowledge, the passion, motivation and commitment of the employees, who also cultivate respect for the land and nature, make it possible to improve, vintage after vintage, the quality of the wines of Quinta do Pessegueiro, making it today one of the great Douro wines.
The entire vineyard is farmed in a way that respects the natural balance, banishes herbicides and is close to organic farming. We already have 18 ha (60%) certified and the remaining 12 ha, although not certified, are treated in a very similar way to organic. Each plot is cultivated according to the nature of the soil, the slope, the exposure and the varieties that populate it. The horse is also an essential assistant in the work of the espalier vines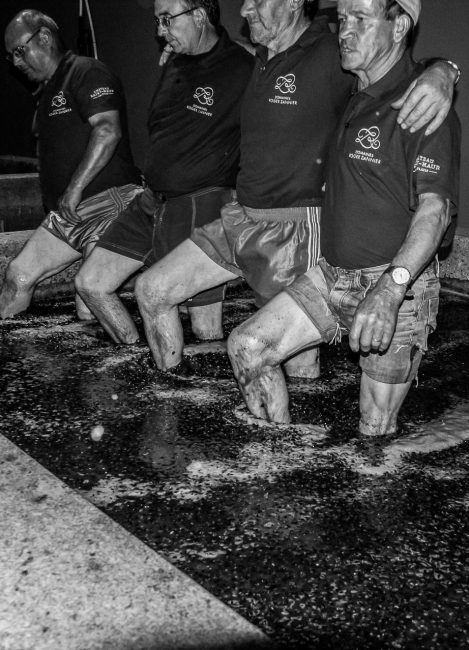 At Quinta do Pessegueiro, foot treading, an age-old tradition, is not reduced to folklore. In fact, this technique is used in our three lagares (wine presses) to produce our best wines. Not in a spirit of excessive conservatism, but because we truly believe that this (human) way of doing things allows us to extract the best from each grape, in order to meet our very precise quality objectives.
when tradition guides creation
We work tirelessly to perpetuate the creation of authentic masterpieces of viticulture. Located in the heart of the estate, the Pessegueiro winery stands out for its remarkable architecture, which is the result of the building's functions and, above all, the particular winemaking method it houses. The building has five levels and combines the traditional methods of producing high quality wines with the most sophisticated equipment. A true technological challenge, our winery was designed to use natural gravity throughout the process of turning grapes into wine.
In order to preserve and respect the wine as much as possible, the use of pumps has been totally proscribed all along the way from the reception of the grapes to the barrel room, including the vinification in the vat. We have an elevator-tank connecting the different levels for exceptional movements during the transformation. This exclusively gravity process ensures a gentle and respectful treatment of the wine.